Great Buy in Chestnut Hill!
76 Larkspur Lane
Highlands
NC
28741
MLS# 89430
$298,000
About the Property
Nicely situated in Chestnut Hill on a quiet road, this home has been remodeled, close to town and price to sell!
The open great room is vaulted, bright and airy. With custom built-ins and a stacked stone fireplace, this is a great place to warm up by a fire and catch up on a good book. Flowing through double doors, you will find a great sun room that leads out on to a screened in porch. The great room is also open to the dining area, kitchen and has a cute little nook perfect for a desk.
The large kitchen has great cabinet space and plenty of counter space that is perfect for preparing large family meals. You can also access the attached single-car garage from the kitchen, convenient after a shopping trip.
The HOA fees include the maintenance of the exteriors of the home, the landscape care, water, sewer, and road maintenance.
Interior Details

Built-ins
Cathedral Ceilings
Fireplace
Hardwood Flooring
His and Hers Sinks
Master Suite
One Level Living
Sunroom

Exterior Details

Community Fitness Area
Exterior Maintenance Package
Garage (1 car attached)
Paved Drive
Screened Porch
Sunroom
Learn More About
Highlands NC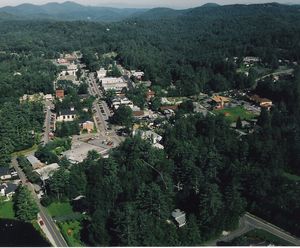 A mere two hour drive from the hustle and bustle of metropolitan Atlanta, Georgia; Asheville, North Carolina; and Greenville, South Carolina is the idyllic mountain town known as Highlands, North Carolina. At a pristine elevation of over 4,000 feet, this quiet rustic mountain community is located at the southern tip of the Blue Ridge Mountains and is surrounded by national Forest. It straddles the Eastern Continental Divide and still seems to the first time visitor like just a few steps from Heaven's door.
This picture perfect mountain oasis, so reminiscent of a Norman Rockwell painting, had its humble beginning back in 1875, when as legend has it, two Kansas developers drew intersecting lines on a map from New York to New Orleans and from Chicago to Savannah. They theorized that the point where these lines met would one day be a great trade center and the hub of commerce. Fortunately, they missed their calculations by approximately 120 miles (Atlanta Georgia) and this rich and fertile mountain village was able to develop as a health and summer resort town on the highest plateau of the Southern Appalachian Mountains in Western North Carolina. The year round population of the Highlands area is about 4,500, but the summertime temperatures draw visitors from around the southeast who come to enjoy the cool days and brisk mountain evenings.
Unlike most resort towns, the majority of our summer visitors are also homeowners and the town has created a community of concerned citizens and cultural organizations with many diverse activities. This community atmosphere makes for an ideal relocation to Highlands. Within the four blocks of Main Street and adjacent streets that make up the center of town, Highlands is a delightful blend of country and city cultures. Rarely is it possible for such a small town to offer the array of services found in Highlands. Medical needs are met with a full-service hospital and a staff of general practitioners and specialists.
The cultural amenities include professional theatre, chamber music concerts, cabarets, art exhibits, galleries, a fine art center and other special events. A variety of educational classes and informative seminars are also available. Highlands gives you a range of choices and somehow manages to nurture your spirit at the same time.
For those who possess a more adventuresome spirit, nature is always calling and beckons you to spend time away from the harried cares of your world. Take a long walk or an invigorating hike to a nearby waterfall; go mountain biking or stroll the sidewalks of Main Street. There is championship golf, tennis, swimming, fly-fishing, boating, kayaking, canoeing, and even whitewater rafting in the rivers nearby. Spring, summer, fall and winter each of the seasons offers its own unique set of outdoor adventures that attract residents and visitors alike to revel in the magnificent splendors of the mountains.
Learn More