Area Highlights
A quick view of the most influential metrics in Sylva NC.
Let's Chat About Sylva NC
Learn more about
Sylva NC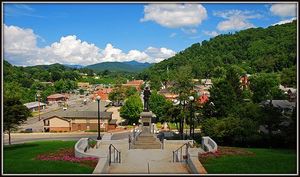 Located in Jackson County, the charming small town of Sylva NC, with a population of approximately 2,600, offers many restaurants and shops along its downtown streets. Voted the county seat in 1913, Sylva gained a railroad station and became a center for business in the area. With it's majestic courthouse perched atop a hill at the end of Main Street in downtown, the town as all the makings of a picturesque Southern town. While the building no longer serves as the official courthouse but...
Read more
Properties in
Sylva NC
View our selection of available properties in the Sylva NC area.
Inside
Sylva NC
Check out the latest demographic information available for Sylva NC.
Let's Chat About Sylva NC
Sylva NC

Schools

Learn more about schools near Sylva NC complete with ratings and contact information.
The Best in
Sylva NC
Browse through the top rated businesses in the most popular categories Sylva NC has to offer.
Dine
Drink
Shop
Perk
Sweat
Groom
Wag