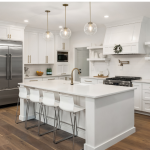 Lots of homeowners choose to perform upgrades on their properties, but these updates are not all created equal. While some will result in a significant property appreciation, others are more akin to wasted cash.
Especially if you're looking to sell Highlands NC real estate, you want to make sure that you're getting the most bang for your buck and working towards increasing the value of the property. Here are 6 home upgrades that always yield a high return on investment and that will attract buyers.
Open plan living
Most buyers are either looking for open plan homes or are planning on undergoing major renovations in order to create the open plan living space they've always dreamed of. Why not take advantage of that knowledge and make sure you're offering buyers what they're looking for?
Open plan spaces are lighter, brighter, more inviting, and they facilitate socializing, gathering, and conversation. A separated, boxed off, dark space can be completely transformed and made to feel bigger by knocking down some walls. It's a big expense and a big renovation, but the return is up to par.
Finished basement
Additional square footage is always guaranteed to increase the value of a property, so finishing a basement is a no-brainer for any property owner in Highlands NC. You are effectively adding an entire room to the property – perhaps a home office – or even a small apartment with an en-suite bathroom and kitchenette.
You can choose to furnish this space and give it a dedicated use, or you can just finish it, weatherproof it and ensure water and electric access. That way, it is up to the buyers to transform the space into whatever they envisioned.
Smart upgrades
In 2021, there is one thing that sells properties fast, and that's smart upgrades. Buyers are willing to pay more for convenience, so boost the price of your property with some smart tech upgrades that make buyers' lives easier.
Some popular options include smart doorbells, smart thermostats, smart security cameras, or smart assistants. An update like this attracts more buyers and boosts the asking price several thousands of dollars higher than the competitors. Don't
forget thoughtful details like high-speed internet to ensure that all your devices are running smoothly. Smart upgrades are a significant upfront investment, but one that pays off for both you and the buyer.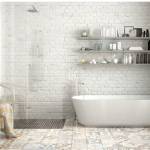 4. Additional bathrooms
The feature that adds the most value to a property? Bathrooms. Especially if the home only has one bathroom, no master en-suite, or no bathroom downstairs, transforming another room into a bathroom is always an excellent investment.
In cases like this, it makes sense to sacrifice a guest bedroom to gain a bathroom, because that way, you not only attract more buyers and attention, but you also add to the value of the home.
Extra closets
No property ever has enough storage space, so if you can find a home with big closets – or make them – that's a guaranteed return on investment. Bedroom closets, in particular, always benefit from extra room, but a pantry or utility room/storage space is always welcome.
Additional storage space can transform a beautiful property into a beautiful and functional one, and that's something buyers are willing to pay top dollar for, especially in areas that are notorious for lack of storage space. Whether you're building an annex or just finding ways to utilize the existing space better, this is an upgrade that will pay off.
Hardwood floors
One of the best upgrade you can make to a property is to install hardwood flooring. A high-quality wooden floor will not only be beautiful, but extremely durable, and easy to maintain in amazing condition. Most buyers prioritize this feature in their home searches, so it's always a guaranteed return on investment – and a 3%-5% bump in value.
If the property already has hardwood floors installed, you don't even need to make a big investment. It's just a matter of refinishing what's already there to give them their shine back and you gain thousands on your home valuation.
Bottom line
If you're looking to sell Highlands NC real estate, you might be looking at upgrading some key aspects of the property. An updated house is always likely to sell better, but some upgrades yield a better return on investment than others.
Hardwood floors, smart tech, and open plan homes are just a few of the things young buyers are willing to pay a premium for. Why not make a surefire investment and dazzle buyers with these very sought-after features?