Highlands NC Real Estate, Vacation Home Ownership
---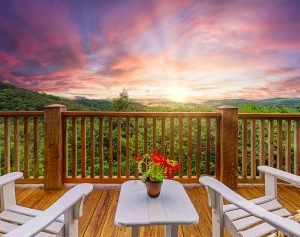 The Highlands NC real estate market often involves owning a vacation home. The Southern Blue Ridge Mountains offer a popular spot for a getaway, with a plethora of activities in the great outdoors. As such many buyers are looking for a weekend home or a vacation spot where they can not only spend weeks at a time but also rent out when not in use. Owning a second home involves planning and preparation and is different from a primary residence. An experienced Highlands NC REALTOR will be instrumental in gathering information and knowledge about vacation homeownership.
Keeping an eye on a Highlands NC vacation home
Let's face it, things happen. Power outages, leaks, branches falling, and other issues, both large and small, occur. How do you handle issues when you live somewhere else? The advent of technology has certainly made it easier to keep an eye on a Highlands NC home. Video cameras, doorbell cameras, and other similar devices can sync with smartphones, tablets, and computers to offer a glimpse of what is going on. Furthermore, smart locks can enable owners to control who can enter a home when and allow for renters and contractors to have easy access when allowable.
A property manager may be the right choice
While the opportunity to see a home from afar can offer peace of mind, it cannot replace the personal touch. A camera may not be able to detect a leak, a broken window, or other issues. Many second homeowners hire a property management company to keep an eye on things. This can be simple, a weekly or monthly walkthrough, for example. Or, this can be more in-depth and include rental oversight, cleaning, landscaping, and more. Owning a Highlands NC property is a large investment and keeping an eye on this investment is important.
Learn more about Highlands NC real estate
Contact our team at Berkshire Hathaway HomeServices Meadows Mountain Realty today to learn more about owning a Highlands NC vacation home. We welcome the opportunity to update you on the market while answering all of your buying and selling questions. Let our knowledge and experience serve as your guide to Highlands NC real estate.
Click here to read "Vacation Home Safety Tips" from Realty Times.