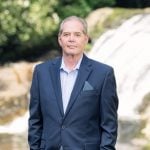 SHERMAN POPE
BROKER / LUXURY COLLECTION SPECIALIST
A little about me
What makes the Highlands-Cashiers Plateau such a great place to live?
Many years ago I came to visit a cousin in Cashiers and fell in love with the plateau. Beauty, temperatures (being from Florida), people, and life "the way it used to be!"
What do you like to do in your free time?
What free time? I'm licensed to sell real estate in four states (NC, SC, GA, FL)! I enjoy spending time with friends, family, and customers. Dining out, participating in local events, and helping others when possible.
What do you like most about working in real estate?
My favorite part of working in real estate is the relationships formed with clients. I'm in this for the long term.
Why should people use you as their real estate broker?
People should use me for my brutal honesty, trust, knowledge, and integrity. Selling real estate is a joy to me; it's never been a "job." I consider myself a "concierge broker." I take care of everything I possibly can for my clients before, and long after the sale. I don't disappear after the closing. I was once a new resident on the plateau and I had to seek out all of the information that I provide to my clients to help make their transition go smoothly.