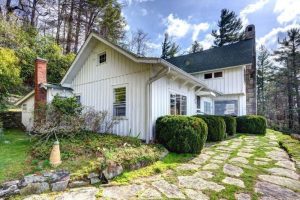 This charming and historic Highlands NC home for sale is located at 155 Stacey Russell Road. This 3 bedroom, 3 bath home is a lot that is 4 acres in size, bordering the Land Trust and boasting spectacular views of Blue Valley, Rabun Bald, Georgia and South Carolina. Built in 1941, the home represents a piece of Highlands history.
This Highlands home has been well cared for. The interior of the home is light and bright, with windows that embrace the great views. The trails outside of your home embrace the environment and offer easy access to the great outdoors and open space that surrounds this Highlands property. Most notable is the charm of a home that has great curb appeal and finishes that come from a different era.
Contact our team at Berkshire Hathaway HomeServices Meadows Mountain Realty today to learn more about 155 Stacey Russell Road in Highlands NC. This wonderful home is a prefect fit for the buyer looking for space, privacy, and views. Let us help you complete a successful property search, whether it is this Highlands NC home for sale or another property listed in our area.