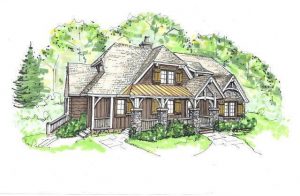 Highlands real estate focuses on smarter and healthier home trends.  People arrive in Highlands NC from all over and when they decide they want a home here, whether a primary residence or a vacation home, they are typically looking for all the comforts of home and technology to match.  Technology has enabled many people to spend more time in our mountain community, with the ability to work over the internet.  This technology also offers homeowners the opportunity to keep an eye on vacation homes from a distance.
Home trends are seeing technology in newer Highlands homes as well as a part of renovations in older homes.  This technology enables control of window treatments, heat and cooling systems, lights, security, and more. In the same vein as improving the smart technology in homes there is a compulsion leading toward healthier homes.  People are wanting to use more organic materials in homes while at the same time building homes that are less impactful with their carbon footprints.
Contact our team at Berkshire Hathaway HomeServices Meadows Mountain Realty today to learn more current home trends in Highlands NC.  We welcome the opportunity to update you on market conditions while sharing what buyers are looking for in homes in our area.  Let our knowledge and experience serve as your guide to Highlands real estate.
Click here to read "10 Trends Driving the Next Decade of Home Design" from REALTOR Magazine.