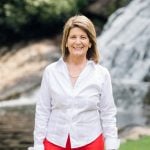 LORNA ALEXANDER
Broker
A little about me
Lorna Alexander has been a longtime resident of the Highlands-Cashiers area cover-ing a span of 20+ years, coming to the plateau from Atlanta full time in 2005. She be-came involved in the community from the start as a shop owner in Highlands, served on the Highlands Chamber Board, participated in Leadership Highlands, and worked in various marketing and sales capacities for Old Edwards Inn Hospitality Group, the local radio station WHLC, Center For Life Enrichment as Marketing Director and The Laurel Magazine.
Lorna grew up in Michigan and attended Michigan State University where she re-ceived a BA in Communication and has a long career history working on various ac-counts at advertising agencies throughout the country and for large publishing com-panies in sales. She returned to this area in 2019 after having spent 3 years in South-ern California living the SALT life, surfing at least twice a week.
Her love of the area along with her passion for all things home and land inspired her to obtain her NC Real Estate license in 2019. She began her real estate career with RE/MAX locally where she received a good solid foundation working for a national brand.
She recently made a move to Berkshire Hathaway Home Services Meadows Mountain Realty's Cashiers office. Lorna selected BHHSMMR due to the strength of the Berk-shire Hathaway brand closely followed by the stellar people working in all 3 offices and for the state of the art marketing tools provided by the organization. She looks forward to putting her sales and marketing expertise, real estate experience, strong work ethic, combined with her love and knowledge of this beautiful area and share that passion with future potential residents.